The winners of the 4th edition
Turboden, Teleriscaldamento termo-elettrico Dobbiaco San Candido società cooperativa, Edilana and Coopi Cooperazione Internazionale are the winners of the 4th edition of the Good Energy Award.
The prize-giving ceremony of the 4th edition of the Good Energy Award took place on 4 June 2013 in Milan, at the Auditorium of Robert Bosch Spa. The Good Energy Award is the first award in Italy to reward producers and constructors of plants for the renewable energy industry and those organizations that are able to apply energy efficiency policies, so to identify Italian excellences in this field.
Winners and finalists
Among the more than 50 companies that qualified to run for the award, the Jury panel selected twelve finalists, three for each category: Constructor (Austep, Sorgent.e, Turboden), Producer (Etra, Teleriscaldamento Dobbiaco-San Candido, Terni Energia), Energy Efficiency (Autogrill, Edilana, Florim Ceramiche), PA & not-for-profit (Comune di Isera, Comune di Tirano, COOPI Onlus).
The winners of the 4th edition are: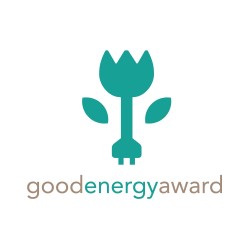 A special moment was dedicated to reward the winner of "Creativ@Mente in Gara", a contest for young people between 18 and 30 years old with the aim of creating the official Good Energy Award logo. Valentina Fregosi, 21 years old, was selected among 25 young creative designers coming from all over Italy.
During the ceremony, the photograph Alessandro Grassani presented his project called "Environmental migrant: the last illusion" showing to the situation of environmental refugees, who experienced directly the effects of climate changes.
Sponsors and scientific support
The award was sponsored by:
and had the scientific support of:
Jury Panel
The Jury panel of the Good Energy Award 2013 was chaired by:
Maurizio Fauri - Professor of Sistemi Elettrici per l'Energia at Università di Trento and President of Polo per l'Energia, i.e. the Technological Center for Energy of Trento
and composed by:
Fabrizio Adani - Gruppo Ricicla - D.I.S.A.A. Università degli Studi di Milano
Alessandro Beda - Vice President at Sodalitas
Paolo Bertoli - Chairman of the Advisory Council of ANDAF
Stefania Bertolini - CSR Manager Network
Andrea Demozzi - President of Dolomiti Energia Rinnovabili
Giuseppe Fano - Consulting & Execution Srl
Maurizio Finicelli - President of RIA Grant Thornton
Valentina Fregosi - young artist and creator of the Good Energy Award logo
Giuseppe Garofano - Vice-president of Alerion Clean Power
Andrea Girardi - lawyer in Trento, Girardi SL
Anna Lambiase - Chief Executive Officer of IR Top
Damiano Loppi - Loccioni Energy
Loretta Tarquini - Corporate Social Responsibility SEA- Aeroporti di Milano
Guido Uccelli - President of UBC Energia
Francesco Zanotti - Researcher in systems theory
Participants' declarations:
"Dynamism, innovation, respect for the environment and research are the key topics that characterized the 2013 edition of the Good Energy Award. Although this is a very difficult moment for the global economy, we want to give our contribution and make the prestige and the ability of Italian businesses, as well as the actual and constant commitment of not-for-profit companies are well known" Stefano Salvadeo, partner at Bernoni Grant Thornton
"Today, Italy is one of the leading European markets for energy-related services. The country plays a key role as proved by the recent acquisition by the Bosch Group of an Italian company, among the first ten players of the Italian energy services market." Gerhard Dambach, CEO Robert Bosch SpA
"I sincerely thank you for organising an event that has a deep symbolic meaning for us, i.e. encouraging and connecting people who believe and invest in our Country." Tiziana Torelli, Climater Srl
"Thanks again for inviting us at the prize-giving ceremony and for the interesting event. Back at work, I related my experience to my colleagues and all are convinced of the positive value of initiatives like this." Rosalba Fiore, Moretti Company Spa