Since 2015 Grant Thornton has been promoting globally the CSR day - Growing Together in the Community, during which people of every Grant Thornton member firm have the chance to make a difference in the communities they work and live in. Since the first edition in 2015, when more than 70 member firms all over the world participated, the impact on the communities involved has been significant. A very important day to demonstrate that the "instinct for growth" that characterises Grant Thornton means also to contribute to the social and human growth of our communities.
Our commitment, however, is not limited to a single day, but continues over time with many and different initiatives.

CSR Day 2018
The Grant Thornton global CSR Day "Growing Together in the community" has come to its fourth edition. This is our chance to give our support to and transmit our passion for the community we live in.
This year, the days elected for the CSR Day are 13 and 14 September.
On 14 September, we spent a day with the children of SOS Bambini and the donkeys of A passo d'Asino, walking with them in a park in Milan and engaging children in enjoyable playing activities to make them interact with donkeys.
We also commit to contribute to the wishlists proposed by the associations, trying to support them in any way possible and help them getting what they need to carry on their activities. Our engagement in the community continues all the year!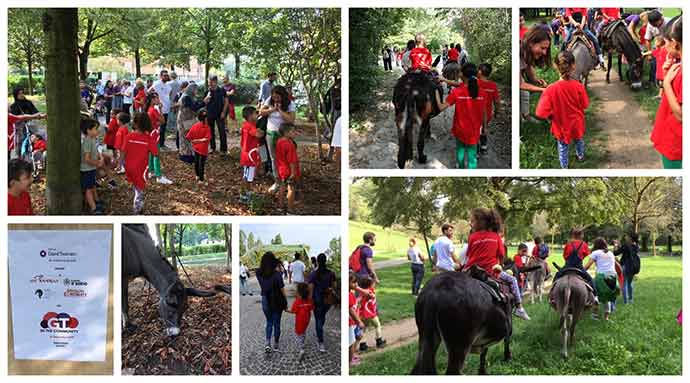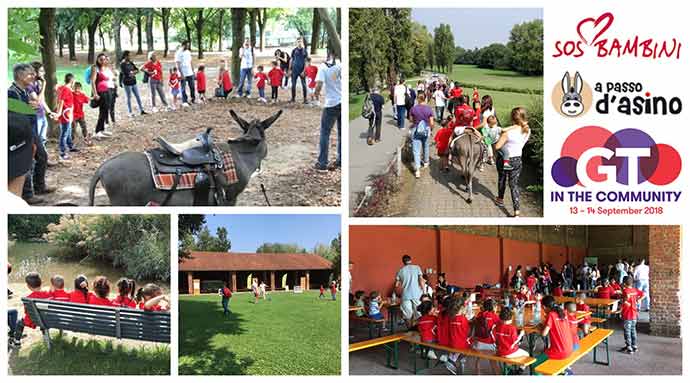 Bernoni Grant Thornton to end violence against women
Bernoni Grant Thornton supported C.A.DO.M., an association against domestic violence, focusing on violence against women, which, unfortunately, has become a topical issue in our society
Find out more about the association
I Fuoriclasse della scuola
For the third year in a row Bernoni Grant Thornton sponsors a project aimed at supporting young students thanks to charitable donations by foundations, associations, companies and private individuals.
2017 Christmas solidarity
Bernoni Grant Thornton supports SOS Bambini Onlus and their initiative dedicated to a project aimed at giving psychological and therapeutic assistance to disabled children in Sighet, Romania.
CSR Day 2017
Again this year, Bernoni Grant Thornton has been promoting the CSR day, supporting SOS Bambini and A Passo d'Asino.
Milano Marathon 2017
On April 2, 2017, Bernoni Grant Thornton and Grant Thornton Financial Advisory Services took part in the Milano Marathon relay race to support Dynamo Camp.
Grant Thornton turns pink
On the occasion of the International Women's Day, Bernoni Grant Thornton and Grant Thornton Financial Advisory Services, thanks to a donation to LILT, supported the "Pink ribbon" campaign to promote women's cancer prevention.
Earthquake in central Italy: our support
Bernoni Grant Thornton is close to the victims of the earthquake and their families.

We decided to help colleagues who carry out their professional activity in the areas of Central Italy affected by the earthquake. Our support could also culminate in an active collaboration for the fulfilment of professional tasks, by sharing equipment, databases and premises at our offices.

For more information please send an email to the following address: solidarieta@bernoni.it.gt.com
CSR Day 2016
Partners, professionals and employees of Bernoni Grant Thornton participated in the CSR day organised together with the two not-for-profit associations which we have been supporting since 2015: SOS Bambini and A Passo d'Asino.